GRAFster7
Those of you who wish to register can do it here. To do so please request your registration code using one of the procedures described below. You can use your existing Paypal account to make a payment, or easily create a new account.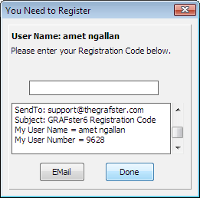 After you've downloaded, installed and then used GRAFster7 for a while you will be asked for the registration code - you will need to send a Register Me Email with your User Name and User Number when GRAFster7 asks in order to complete the process. User Name does not have to be your real name.
Alternately, select and copy the text in the 'You Need to Register' dialog then paste it in an Email and send it to support. Your Email must give your User Name and User Number as shown here. If need be, take a look at the How to Register.txt file for an alternate payment method.
To get your registration code, make a secure on line payment of US$10 via PayPal. That done, the author will send you your registration code via an Email. This is not an automated process. It might take a day or two for you to get a reply. If you are a registered user just send your request to support using the link at the bottom of the page - upgrades are free. You will also receive links to fetch the setup programs for Dmarc-O-Matic v4.1 (544 kB) and Analyzer v1.17 (862 kB). They are a free bonus for registered users.